Atlanta Hawks Varsity Jacket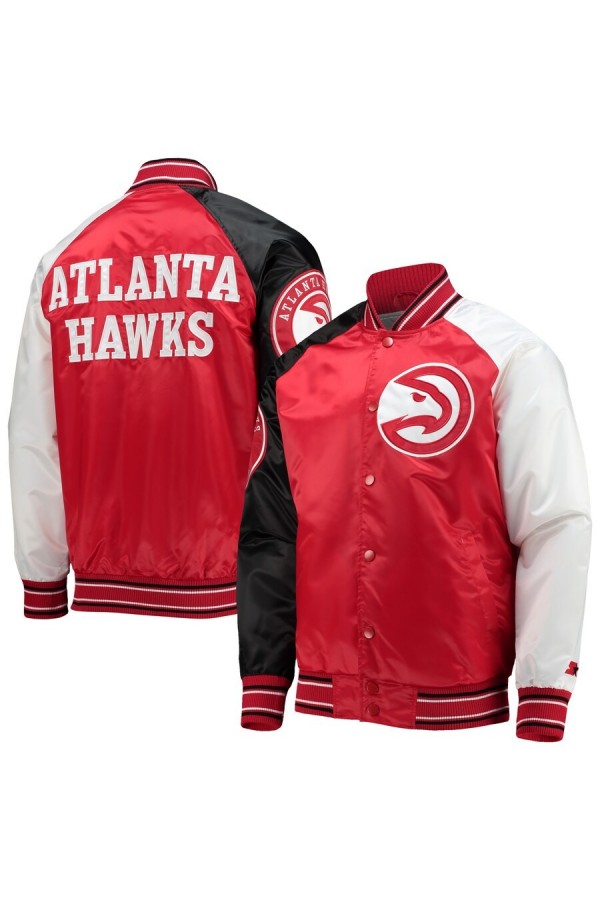 New -19 %
Atlanta Hawks Varsity Jacket
Atlanta Hawks Varsity Satin Jacket
Elevate your charm and style quotient with the Men's Starter Atlanta Varsity Jacket. This jacket is designed to make you stand out in every walk and gathering, as it exudes a marvelous and bold look. Its timeless appeal instantly adds a desired touch of style, making you look effortlessly good.
Crafted with care, the exterior of the Men's Hawks Reliever Raglan Jacket is made from satin fabric, providing a sleek and sophisticated appearance. The interior is lined with soft viscose, ensuring warmth and comfort throughout. The rib-knit collar and front button closure contribute to a dapper and fashionable look.
The jacket features long and fitting sleeves with rib-knit cuffs, enhancing its visual appeal. An eye-catching patch on the front side adds to its uniqueness, while two side pockets offer secure storage for your belongings. The Men's Atlanta Hawks Jacket showcases a striking combination of red and black tones, further enhancing its remarkable charm.
Explore our collection of attractive and similar jackets, including the Atlanta Hawks Wool Jacket and Atlanta Hawks Leather Jacket, among many others. Additionally, don't miss out on our wide range of casual jackets, celebrity jackets, baseball jackets, and varsity jackets.
Step up your fashion game with the Men's Starter Atlanta Varsity Jacket and effortlessly shine in any setting. Embrace the glimpses and sparkles of fashion with this exceptional piece. Experience the perfect blend of style, comfort, and timeless appeal with our remarkable collection.
Material: Satin Fabric
Color: Red
Collar: Rib knitted style collar
Front: Buttoned style closure
Cuffs: Rib knitted cuffs
Premium stitching